In the past fifteen years there have been several noticeable market corrections. Three in particular were quite severe: the Great Financial Crisis (GFC) of 2008, Black Monday of 2011 and more recently the COVID Crisis of early 2020. Three very different events, over different time horizons, driven by different forces. Nonetheless, our research, which surveys data from thousands of private funds representing tens of thousands of portfolio assets, yields interesting results on:
How much diversification do private market funds provide against public markets?
What is the relative performance of various private fund strategies to each other?
What might all this imply for the next correction?
Diversification against public markets.
Portfolio companies of private funds are typically marked each quarter in one of three ways: (i) marked to valuations of publicly listed peers, (ii) marked to recent transactions of a similar size in the respective sector or (iii) marked based on discounted cash flows. This can result in a certain element of correlation to public markets but to what extent? The two charts below, where we map the quarterly asset value growth rates to a public index (the Russell 3000 index) using FundFilter data, provide some answers to that question.
Quarterly Asset Value Growth Rates: Q4 2006 - Q3 2020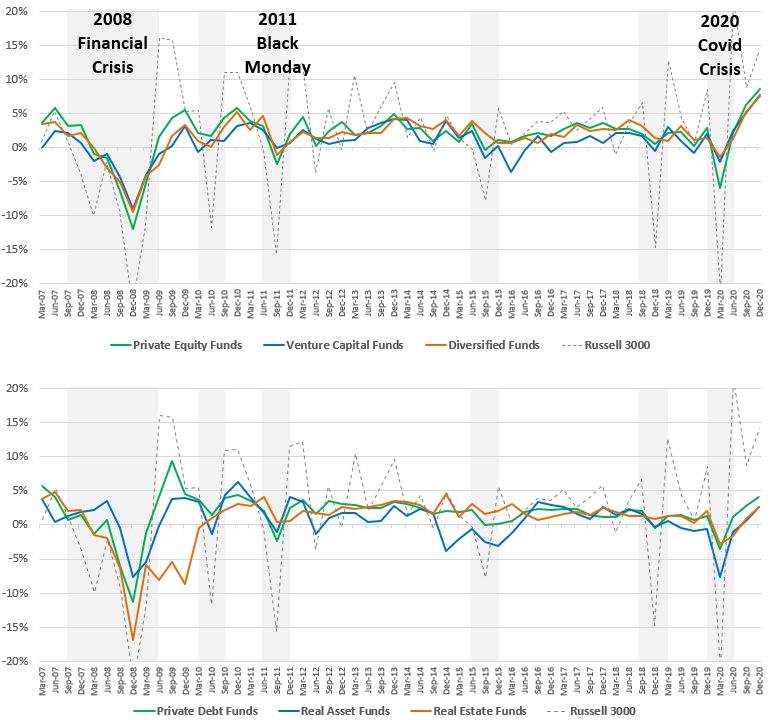 Source: FundFilter.com.
Asset Value growth levels for private market funds are calculated using the Yale Model across several thousand private funds. Adjustments are made for extreme growth values caused by a denominator effect of funds in the early stage of ramping up. Intra day swings in public markets might be higher than indicated.
A number of immediate things jump out here. First is the severity of the GFC. Second is the number of meaningful market corrections over the past 15 years. Third is the comparative performance of the various six private market strategies to the public markets and eachother.
Let's focus on this latter point. The charts below highlight this relative performance to the Russell 3000 during three of the more meaningful corrections over the past 15 years. In all three situations, the public markets demonstrated a much more severe decline which on an intra-day basis could be even more extreme than portrayed in this quarterly snapshot.
2008 GFC
(Quarterly Growth Rates Indexed to Q4 2007)
| 2011 Black Monday (Growth Indexed to Q2 2011) | 2020 Covid Crisis (Growth Indexed to Q4 2019) |
| --- | --- |
| | |
Source: FundFilter.com.
All six private fund strategies demonstrated a more moderate reaction, were slower to correct and slower to rebound than the public market equivalent. Hence, on average, they each demonstrated a portfolio diversification benefit.
This can be attributed to a number of factors such as (i) a less reactionary mark to market valuation process of fund managers compared to the undulations of public markets which are subject to both higher sentiment trading as well as automated algorithmic trading, (ii) fund managers selection of various valuation approaches in assessing marks and (iii) the ongoing monetary easing environment which allows many fund managers to better renegotiate debt financings and extend maturities, avoiding large default cycles and prolonged recovery.
Private fund strategies relative performance to each other.
While the various private strategies may demonstrate less volatility to the public markets, they also demonstrate interesting relative movement against each other in a market correction. Again, as can be seen in the charts below reflecting three of the more severe downturns, there is a mixed bag of results to unpack.
2008 Financial Crisis - Asset Value Growth
| 2011 Black Monday | 2020 Covid Crisis |
| --- | --- |
| | |
Source: FundFilter.com.
The GFC was by far the most severe test that private assets have experienced in recent memory. The severity and longevity of the slowdown meaningfully impacted nearly every private market asset class. Private Equity, Diversified Funds and Venture Capital all experienced multiple periods of negative growth from Q1 2008 through Q1 2009 with each enduring a c. 9%-12% drop at the lowest point in Q4 2008. On a cumulative basis the negative growth amounted to -21% for Private Equity, -21% for Diversified Funds and -19% for Venture Capital.
Looking at all three downturns there are notable observations to be highlighted.
Private Debt Funds demonstrate meaningful sensitivity to market corrections, largely in line with private equity. Many private loans have a liquid secondary market which would often obligate fund managers to mark-to-market. The GFC in particular saw senior loans of companies with solid credit profiles trade at meaningful discounts due to their relative liquidity and the need of certain market participants to generate liquidity regardless of cost.
Real Estate Funds were hit particularly hard during the GFC due to the nature of the housing crisis and they collectively experienced a longer decline and slower recovery. Conversely, in other market corrections Real Estate demonstrated much more resilience to prevailing market conditions.
Finally, Real Asset Funds (made up of infrastructure, energy & natural resources) navigated relatively well through the 2008 and 2011 crises, however were meaningfully impacted through the 2020 Covid crisis. The primary reason for this was the ongoing cyclical downturn that oil & gas had been experiencing for several years in addition to the immediate reduction in demand for various fuels due to the dramatic drop in travel Covid caused.
What does this mean for a future correction?
With market analysts forecasting a potential 10-15% correction (possibly greater), what might that mean for the various private market strategies? Looking over the past 15 years of when public markets declined by 5% or more in a single quarter, we have taken the average of such occurrences in increments of 5-10%, 10-15% and 15-20% declines for each of the six private market strategies.
While "past performance is no guarantee of future results", the following charts might provide some indication of what to expect on average across these strategies.
Average drop in asset value per private fund strategy related to a decline in public markets
| 5-10% public market decline | 10-15% public market decline | 15-20% public market decline |
| --- | --- | --- |
| | | |
Source: FundFilter.com.
Finally we would note that the time it has taken for private fund strategies to revert to their respective pre-correction levels also varies depending on the severity of the crisis. For the three scenarios mentioned above the following charts provide some indications of what that might mean going forward.
2008 GFC - Recovery Time to Pre-Correction Asset Value Levels (Years)
| 2011 Black Monday - Recovery Time (Years) | 2020 Covid Crisis - Recovery Time (Years) |
| --- | --- |
| | |
Source: FundFilter.com.
We built FundFilter to provide the necessary access to private fund data and analytics for every type of investor regardless of size, experience or budget. We consider it important that all such investors have access to data in order to have a better understanding of the risk return proposition of various strategies, how well or poorly a fund manager may have performed, what the cash flow implications of a fund commitment might look like as well as how to better assess future commitments within a portfolio.
FundFilter was built to help inform investors and level the playing field to the benefit of all participants in the market.
Log into FundFilter.com today... access is free and signing up takes seconds.